Ah awards season, my favorite time of year. I love pretending I'm Joan Rivers, throwing out my oh so hilarious quips about how each star really looks in outfits picked to strut the red carpet. I judge harshly about arm fat, wrinked fabrics, visible pooches or pantylines, and sit back smug on my couch after sharing my thoughts with only one or two people who happen to sit through the awards shows with me. Well not this year! This year I have my own blog to share my thoughts and judgements....how lucky for all of you.
In my attempts at tearing apart the worst dressed, I must note that I did not include such notables as Helena Bonham Carter, Tilda Swinton, or Gabourey Sidibe. I mean, they did the best they could but who could have expected any of them would impress on the carpet. I didn't feel like taking cheap shots at their wacky choices, and so only stuck with those who really thought they had a fighting chance at wowing on the carpet. How wrong those poor souls were....
GOLDEN GLOBES 2011 BEST DRESSED
January Jones, Versace
100% Best Dressed in my mind.
January never disappoints with her aggresive choices, god bless her for it.
If I had her body, I would definitely want to flaunt it all in front of jealous bitches everywhere.
Claire Danes, Calvin Klein Collection
I've never really been a major Claire Danes advocate, usually I find her to be completely boring and too understated to impress. But this cut and neon pink color were incredibly flattering on her and made enough of an impact to have me referencing her picture multiple times before relenting and adding her to my best dressed list.
Kudos to you, Claire.
Anne Hathaway, Armani Prive
I was shocked by how much I like this dress (see below for my thoughts on Angelina Jolie's version). But the giant shoulders, low back, and sparkles had a youthful effect on Anne, with her gorgeous hair and megawatt smile to boot. Her dress had life to it and looked like she was having fun on the carpet.
Eva Longoria, Zac Posen
George from E!'s Fashion Police said it best last night, for such a petite woman she really knows how to dress like a bombshell. This curve hugging dress fits her like a glove, and although the color was basic black there was nothing boring about her on the carpet. Major fan of this look, Tony Parker eat your heart out.
Jennifer Lawrence, Louis Vuitton
I love how awards show rookie Jennifer lets the dress do the talking, and turned this runway piece into a red carpet stunner. Sometimes they don't always translate (cough, Zoe Saldana in Givenchy at last year's Oscars, cough). This dress gave her a shape, and the ruffle detailing was just soft enough to draw the eye but not overwhelm her figure. Others may disagree, but I totally dug this look.
GOLDEN GLOBES 2011 WORST DRESSED

Angelina Jolie, Versace
This dress looks like something a grandmother would wear to a formal affair.
The shoulder pads, the long sleeves, the sparkle, the high neck, Angie might as well have stolen this dress from Blanche Devereaux on an episode of Golden Girls. Fail.
Emma Stone, Calvin Klein Collection
Don't get me wrong, I LOVE me some Emma Stone. I pray to the heavens above that we will one day become the besties we are destined to be. But with her spray tan and platinum hair, I was not feeling this peach dress. She looks completely washed out, a bright coral or other gemstone shade would have popped with such a simple, understated dress silhouette. I was completely underwhelmed by her outfit.
*I actually shouted out "OMG, I can't believe Jaime Pressly showed up post DUI, how bold." THATS how bad Emma looked to me, they seemed identical.
Julianne Moore, Lanvin
The billowed, one shoulder long sleeve dress did her no favors. The fabric and shape left her with creases from simply sitting in the car, and as a red carpet pro you'd think she would know better before an awards show. I did love the color and neckline, but it was not enough to save this disaster on the carpet.
Michelle Williams, Valentino
Ugh, really Michelle? Daisies?
You are not Twiggy, and it hasn't been 1960s for quite a few decades.
Heidi Klum, Marc Jacobs
Heidi's dress looked like something that should be worn to the Met Ball. She usually brings the glamour to these awards shows but her look seemed drab. It clashed with the red carpet and I hate the detailing around the middle. All around BLAH look, disappointing.
And those who didn't have a bad dress but I just did not love....
Natalie Portman, Victor & Rolf
Didn't hate but didn't love. Thought the necklace was unneccessary against that giant flower, and her hair looked matronly.
Christina Aguilera, Zuhair Murad
No no no. Pretty dress, but just highlights her bad boob job and weight gain.
She just looked too puffy from her waist up in that gown.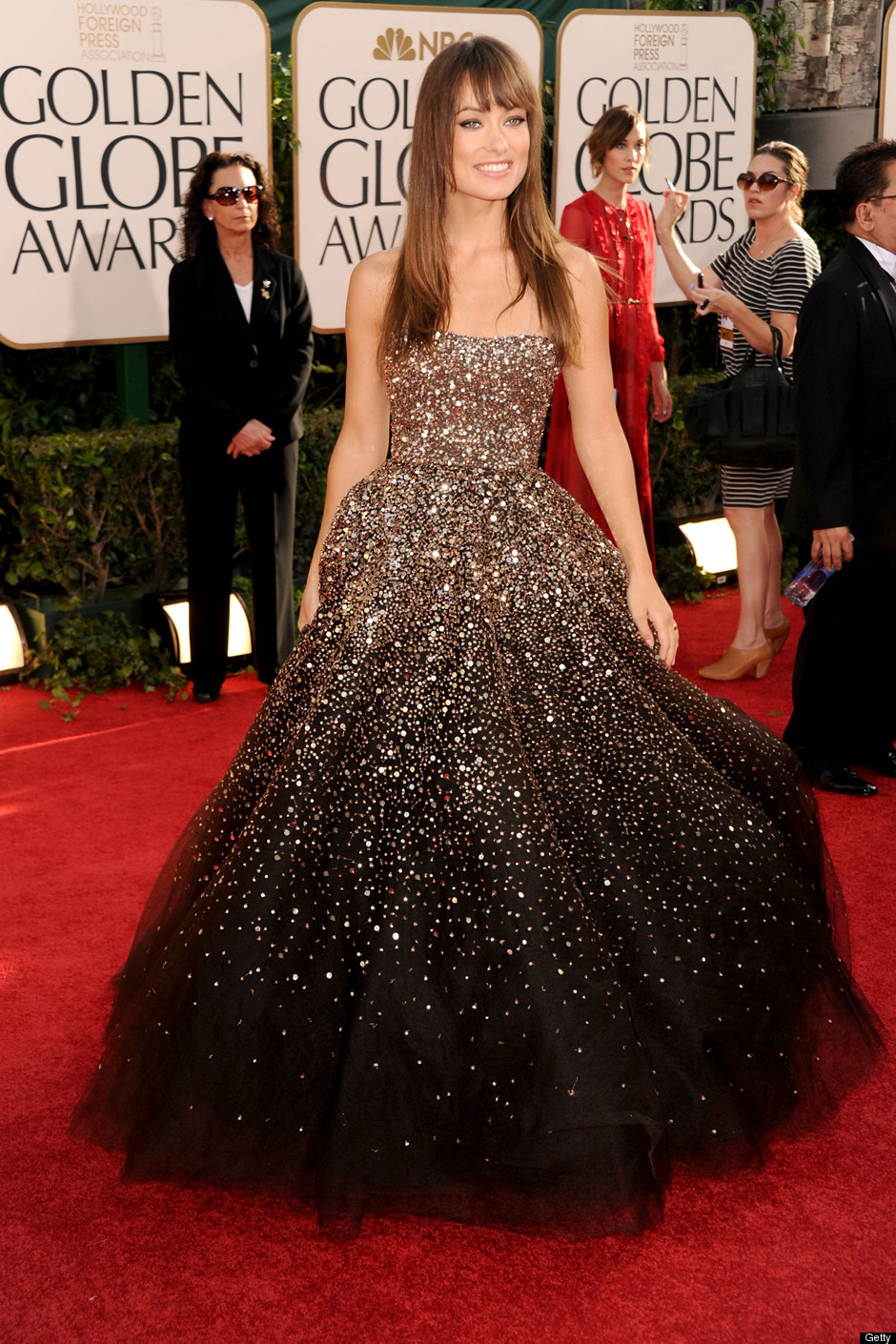 Olivia Wilde, Marchesa
I adore her and thought she looked gorgeous, but her Marchesa gown was just too similar to the Oscar de la Renta ball gown worn by Cameron Diaz to the Oscars last year. Unoriginal.